ESW 2020 Results - Mat Williamson Sweeps To Eastern States 200 Win At OCFS, Jimmy Phelps Claims Small Block 75, Twelve Year Old Tanner VanDoren Shocks Field With Sportsman ES 50 Win, Jim Hajkowski Wins Street Stock Thriller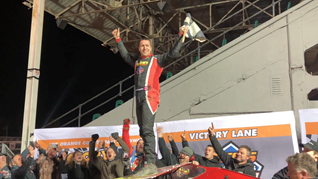 Mat Williamson Sweeps To Eastern States 200 Win At OCFS, Jimmy Phelps Claims Small Block 75, Twelve Year Old Tanner VanDoren Shocks Field With Sportsman ES 50 Win, Jim Hajkowski Wins Street Stock Thriller

Mat Williamson of St. Catherines, Ontario Canada passed leader Stewart Friesen with 56 laps remaining in the 59th running of the Eastern States 200 at Orange County Fair Speedway Saturday night, the repelled challenged from Mike Mahaney and Friesen to preserve the $25,000 win.

Williamson was driving Harry and Jeff Behrent's No. 3 Big Block Modified; the same combination that won the Centennial 100 $100,000 to win event in August, 2019.
"I held back a little in the first 100 laps," Williamson said. "I knew I had a good car, good enough that we were thinking about not even changing tires during the race. But we did and it helped with the lapped traffic over the last 25 laps."
Second place finisher Friesen pitted ten laps after Williamson had passed him. He then roared back through the field, finishing second with a last turn, last lap half-car-length margin over Mahaney, who had started 16th, at the finish line.
Early race leader Larry Wight lost a chance to contend when an ignition problems brought is car to a stop during a caution flag period.
Invader Tim Sears, Jr. ran with the leaders for most of the race and finished fourth with Tyler Dippel fifth.
Two Last Chance Modified qualifiers Saturday afternoon were won by Andy Bachetti and Peter Britten. Marc Johnson won the 'Really Last Chance Qualifier with Matt Hitchcock placing second. The pair started the Eastern States 200 as the 19th and final row.
The Small Block Modified Eastern States 75 that preceded the 200 was all Baldwinsville, NY's Jimmy Phelps. The fastest qualifier the day before led every lap of the fast-paced race, holding off Tim Sears, Jr., Rocky Warner, Billy Decker, who ran second to Phelps for the first half of the race, and Larry Wight.
Bob McGannon and Jackson Gill won the pair of Small Block B-Mains.
The most crowd pleasing race of the weekend saw Orange County Fair Speedway 2020 Sportsman champion Tanner VanDoren of Walnutport, PA. Driving a car Hig Fab owned by Pat Guiliano for the first time, vanDoren outdueled invaders Alan Fink, Zach Sobotka, Matt Janczuk and Tommy Collins to win. The youngster took the lead on one of a succession of late race double file restarts, than ran a car length in front of Fink to the checkered flag. Joe Toth started 31st and charged to a sixth place finish.

Jim Hajkowski won a wild 25-lap Street Stock feature, an event that saw most every driver involved in one or more accidents. Hajkowski held off Charlie Donald, who had been bidding for the lead with five laps left only to spin and restart at the back of the field. Joel Murns, Ron Constable and Walt Henry were the rest of the top five from a 16-car entry.
On Friday, Tim Fuller topped a 57-car Big Block Modified field to set fast time. Jeff Heotzler, Tommy Meier, Matt Sheppard, Tyler Dippel, Stewart Friesen, and Anthony Perrego won the six heats. The 20-lap Race For The Pole involving the top six in time and the six heat winners was won by Larry Wight over Max McLaughlin and Tim Fuller.
The Small Block Modiifed fast qualifier was Jimmy Phelps, besting a field of 60. Larry Wight, Gary Edwards Jr., Andy Bachetti, Kevin Root, Stewart Friesen and Tyler Boniface won the heats.
Alan Fink paced the Sportsman time trials with 75 entrants posting time. Jordan Lawrence, Kevin Root, Tyler Murray, Gary Edwards Jr., Matt Janczuk, and Mel Schrufer won the Sportsman heats. Joe Toth and Tyler Corcoran took the pair of B Mains.
Eastern States Big Block Modified 200 Finish: Mat Williamson, Stewart Friesen, Mike Mahaney, Tim Sears Jr., Tyler Dippel, Jimmy Phelps, Pat Ward, Max McLaughlin, Billy VanInwegen, Jeff Heotzler, Tommy Meier, Peter Britten, Ryan Godown, Marc Johnson, Anthony Perrego, Jack Lehner, Dillon Steuer, Kevin Root, Allison Ricci, Jessica Friesen, Matt Hitchcock, Richard Smith, Tim Fuller, Ronnie Johnson, Andy Bachetti, Larry Wight, Billy Decker, Matt Sheppard, Shane Jablonka, Jimmy Horton, Tyler Trump, LJ Lombardo, Tyler Boniface, Bobby Hentschel, Rocky Warner, Kyle Armstrong, JR Heffner, Jerry Higbie.
Eastern States Small Block Modified 75 Finish: Jimmy Phelps, Tim Sears Jr., Rocky Warner, Billy Decker, Larry Wight, Tyler Boniface, Anthony Perrego, David Schilling, Marc Johnson, Ben Bushaw, Roger Henion Jr., Tyler Dippel, Kevin Root, Mat Williamson, Neil Stratton, Chris Stevens, Bob McGannon, Joe Bonetti, Shane Jablonka, Corey Cormier, Allison Ricci, Patrick Reiser, Dave Constantino, Dillon Steuer, Stewart Friesen, Gary Edwards Jr., Richard Smith, Pat Ward, Jackson Gill, Andy Bachetti, Dave Marcuccilli, Billy VanInwegen, Frank Venezia, Tommy Meier, Louden Reimert, Bobby Flood.
Eastern States Sportsman 50 Finish: Tanner VanDoren, Alan Fink, Zack Sobotka, Matt Janczuk, Tommy Collins, Joe Toth, Kevin Root, Travis Green, Robert Bublak, LJ Lombardo, Sammy Martz Jr., Joe Bruning, Mike Fowler, Tyler Corcoran, Jesse Leiby, Cody Higbie, Joe Bonetti, Ryan Walther, Joe Conklin, Dylan Smith, Clinton Mills, Daniel Morgiewicz, Danny Maher, Tyler Murray, Charles Loiodice, Kyle Inman, Gary Edwards Jr., Gary Edwards III, Mel Schrufer, Tighe Sherlock, David Bosclair, Jordan Lawrence, Corey Cormier, Tyler Peet, Daryl Nutting, Andrew Buff.
Eastern States Street Stock 25 Finish: Jim Hajkowski, Charlie Donald, Joel Murns, Ron Constable, Walt Henry, Dillon Gannon, Paul Harding, Matt Carmano, Wayne Taylor, Joe Morris, Rob Taylor, Danny Hedges, John Aumick, Bobby Sleight Jr., John Miracle. DNS: Nick Giardini