EASTERN STATES WEEKEND – SUNDAY RESULTS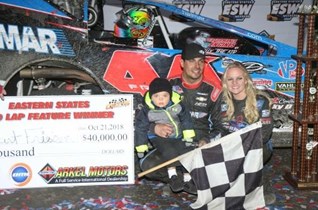 By FRANK CATIZONE 
MIDDLETOWN – It was a real family affair in victory lane at the Orange County Fair Speedway yesterday afternoon as Stewart Friesen and his young family celebrated his second Eastern States 200 championship before a packed house. 
Friesen and his racing wife Jessica, who became the first women ever to qualify for this prestigious race, were all smiles as their young son Parker waved the checkered flag in triumphant fashion following his father's $40,000 victory. 
"I couldn't be prouder,'' said Friesen. "After Jessica qualified for her first 200 lapper on Friday, we sat down and picked our strategy for the race. Things worked out just perfect.'' 
Friesen, who won this race in 2016, came in for his mandatory pitstop on the 33rd lap with several of the other top competitors. All drivers had to make one visit to the pits after 30 laps were scored. 
"We were able to beat out several of the top competitors on that restart and it was key,'' said Friesen. "I only took on a splash of fuel and didn't put on any rubber. We used the same set of tires throughout the race and it worked out just like we planned it.'' 
Brett Hearn, who led for the first 32 laps, led the parade of drivers into the pits when they were opened and also made it back out in good shape. But Hearn came up with a rear flat to force a caution with 41 laps down and went down a lap in the pits. 
Hearn was able to make his way back up as far as sixth place, but faltered as the race progressed because of a fuel pressure problem. 
Friesen, meanwhile, starting reeling in the leaders as the race progressed and was sitting in ninth place on the 83rd lap. But Friesen was in the best position of any drivers at that point because no one ahead of him had made their mandatory stop yet. 
"I knew none of those drivers were in yet,'' said Friesen. "I just sat back and waited to conserve my tires. There was no reason to push the issue yet and there was still a lot of racing to do.'' 
Ronnie Johnson, who grabbed first when Ryan Godown pitted on the 66th lap, Billy Pauch Jr., Matt Sheppard, Marc Johnson and Andy Bachetti were running in the top five as Friesen just stood back and waited. 
Sheppard became the leader when Ronnie Johnson pitted on the 108th lap and Tom Hindley was sitting in second place. They were the only two cars that still hadn't pitted as Friesen rode in third place. Hindley made his stop six laps later and Sheppard pitted under caution on the 129th circuit. 
But Friesen was outgunned by Danny Johnson on the ensuing restart and then was on the chase again until the 147th lap when he saw an opening between the first and second turns, and dated into first place past Danny Johnson. 
"I got pushed up on that restart and Danny was able to get by me,'' said Friesen. "But he left an opening on the inside through the first turned and I just filled in the hole. 
"But I knew it was going to be a tough race right to the end. I knew Sheppard had fresh rubber and his car was really fast. And you can never count out Danny (Johnson). I'm just so proud of how well we've done this season and proud of this entire crew. 
"Jessica just ran her race and I'm so proud of her. The big thing was that she stayed safe out there. She took her time, made her stop when we planned it and was able to get a solid 12th place finish.'' 
Danny Johnson held on to finish in second place with Jimmy Phelps, Tim Fuller, Mat Williamson, Tyler Dippel, Sheppard, Ken Tremont Jr., Ronnie Johnson and Mike Mahaney rounding out the top 10. 
Eastern States 200 finish: 1. Stewart Friesen, 2. Danny Johnson, 3. Jimmy Phelps, 4. Tim Fuller, 5. Mat Williamson, 6. Tyler Dippel, 7. Matt Sheppard, 8. Ken Tremont Jr., 9. Ronnie Johnson, 10. Mike Mahaney, 11. Max McLaughlin, 12. Jessica Friesen, 13. Gary Edwards Jr., 14. Bobby Varin, 15. Matt Janiak, 16. Brett Hearn, 17. Tom Hindley, 18. Matt Hitchcock, 19. Mike Maresca, 20. Billy Pauch Jr., 21. Rick Laubach, 22. Kyle Armstrong, 23. Sammy Martz, 24. Jimmy Horton, 25. Andy Bachetti, 26. Corey Lowitt, 27. Anthony Perrego, 28. Billy Van Inwegen, 29. Craig Mitchell, 30. Ryan Godown, 31. Chris Shultz, 32. Marc Johnson, 33. Eddie Marshall, 34. Danny Creeden, 35. Butch Tittle, 36. Chuck McKee, 37. Billy Decker, 38. Tommy Meier, 39. Tyler Jashembowski, 40. Peter Britten, 41. Bob McGannon, 42. Jerry Higbie, 43. Jeff Heotzler Sr., 44. Richie Eurich, 45. Brian Krummel, 46. Will Cagle.
Street Stock Feature Finish, 25 Laps: 1. Jim Maher, 2. Charlie Donald, 3. Joel Murns Jr., 4. Joe Scheffold, 5. Bob Sleight Jr., 6. Billy Deak Jr., 7. Ray Tarantino, 8. Mike Vigiletti, 9. Walt Henry, 10. Wayne Taylor, 11. Tommy Pickles, 12. Larry O'Donnell, 13. Emerson Cargain Sr., 14. Jim Hajkowski, 15. Chickie Bruntfield, 16. Shawn Maher, 17. Jay Smalley, 18. Ron Constable, 19. Kyle Welsch, 20. Dan Maher, 21. Ryan Modiano, 22. Paul Harding, 23. Tom Cilurso, 24. Zack Sorrentino, 25. Travis Brockner. Disqualified: Kevin Skelly (engine).