Eastern States Weekend 2021 - Frequently Asked Questions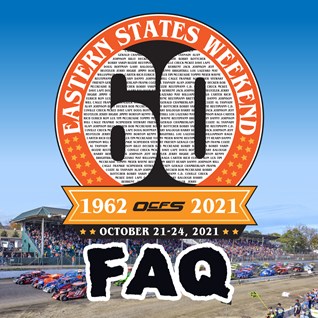 Q: Are Campfires Allowed?
A: Contained fires are allowed at campsites
Q: Is grilling allowed?
A: Grilling is allowed in camping and drive-in areas, no grilling on uncontained fires
Q: Are individual day Reserved Admission tickets available online?
A: No, however available reserved seats will be sold at the gate on individual days
Q: Where is reserved seating located?
A: The top 4 rows of both the half covered and full covered grandstand. All remaining rows are general admission
Q: Is there a kid's ticket price?
A: Yes, but only in General Admission seats. Kid's tickets are $10 a day for kids 12 and under.
Q: Can Camping be purchased online?
A: No, camping can only be reserved by calling the speedway office at 845-342-2573. Please leave a voicemail with your contact info if no one answers. Lines may be busy the closer to ESW we get.
Q: Can Pit passes be purchased online?
A: No, pit passes can be purchased at the pit gate
Q: Can drive-in spots be purchased online?
A: No, drive-in spots are sold typically as 4-day only and are first come first serve. They can be reserved (with reservation fee) by calling the speedway office at 845-342-2573.
Q: Can individual day or 2-day drive in tickets be sold?
A: Drive-In admission is available at $110 for all 4 days or $80 for Saturday and Sunday or $45 for just Sunday. Other than Sunday there are no individual day prices.
Q: Are there any camping spots left?
A: Yes. To see what is available and arrange a reservation, call the speedway office.
Q: What is the cost of a pit pass?
A: All prices and the weekend schedule are listed at: https://orangecountyfairspeedway.net/events/eastern-states-weekend-2021/
Q: Is Saturday and Sunday available to stream online anywhere?
A: Yes, on the OCFS website for $49 for both days. Select "Livestream" from the websites main menu. The 2-day stream should be available for pre-purchase a week out from the event.