Eastern States 50 – Leiby Ends A Successful Season With A Big Win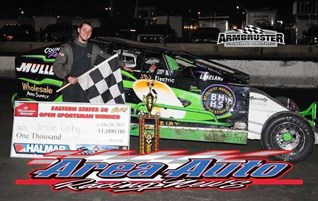 By FRANK CATIZONE
MIDDLETOWN – Jesse Leiby put the finishing touches on the most successful season of his Orange County Fair Speedway career Friday night as he utilized a daring late-race maneuver to capture the Sportsman 50-lap championship race during the 56th annual Eastern States Weekend Festival.
Leiby, who claimed his first OCFS track title in 2017, darted from sixth to first place following a restart on the 49th lap to record his fifth victory at the track this season. He found a very narrow opening inside of Jimmy Johnson racing off the fourth turn to bolt into the lead to earn his first Eastern States title.
"I just went for it and it worked out this time,'' said Leiby of his winning move. "There was a very tight opening of about half a car length to the inside of Jimmy Johnson and I knew it was going to be my only chance to get the lead.''
Leiby, who started seventh in the 30-car field by virtue of a guaranteed spot he earned during an Eastern States qualifier at OCFS in September, thought it was going to be a long evening after his performance in the time trials. He wasn't happy with his seventh-place effort of 22 seconds around the five-eighths mile hard clay oval – an average speed of 102.273 miles per hour.
Leiby's frustration was compounded early in the feature event when he was forced to the rear of the pack after being involved in a second-turn incident with several other cars just two laps into the race.
"I really thought it was going to be a long night,'' admitted Leiby. "I started back in 30th after that caution and knew I had a long way to go to get back into contention.''
Leiby, however, began slowly working his way back through the field as the race progressed under green conditions until the midway point of the race.
John Stangle and Tyler Boniface were treating the racing fans to a stiff battle for first place for most of the event. Stangle was in control for the first four laps before Boniface powered ahead following a fifth-lap restart and looked well en route to defending his title.
However, a series of cautions after 34 laps were completed kept shuffling the running order and Stangle got the jump on Boniface when racing finally resumed on the 35th circuit. Boniface dropped out of the race on the 43rd lap with a right rear flat as Cole Hentschel took over second place.
Stangle, however, had built a pretty good cushion and seemed headed for his first OCFS career victory. But Stangle was also victimized by a flat tire after 45 laps and surrendered first place to Hentschel, who remained there until Leiby's winning move.
"I was forced to pit just 14 laps from the finish and felt that was pretty much it,'' said Leiby. "But it was just like a magical race in the end and I still can't believe I pulled it off. The fact I had fresh tires definitely helped and it's nice to finally win this after just missing out the past few years.''
Johnson, who was competitive throughtout the race, finished in second place with Mel Schrufer, Corey Cormier, Joe Conklin, Hentschel, Connor Otten, Tommy Vigh Jr., Matt Shultz and Kyle Rohner rounding out the top 10.
Howie Finch started on the pole by virtue of his fast lap in time trials with a clocking of :21.767 for an average speed of 103.367 mph. He was followed by Stangle, Jared LaBagh, Boniface, Joe Conklin and Greg Sleight.
A series of six heat races were won by Joey Bruning, Johnson, Hentschel, Dan Morgiewicz, Schrufer and Rohner.
There are already 32 Modified cars locked into Sunday afternoon's 56th annual Eastern States 200 as time trials and a series of heat races were contested during the day.
Billy Decker earned the pole position for the 200-lap grind as he was clocked in 20.426 seconds around the track for an average speed of 110.154 mph. Billy VanInwegen grabbed the outside pole with a time of 20.569 seconds.
Those also making the starting field through the time trials were Stewart Friesen (:20.591), Clinton Mills (:20.594), Tim Fuller (:20.610) and Matt Sheppard (:20.655). Andy Bachetti and Brett Hearn were start seventh and eighth by virtue of qualifiers earlier in the season.
The Modified heats were won by Brian Krummel, Danny Johnson, Tommy Meier, Eddie Marshall, Anthony Perrego and Jimmy Phelps.
Racing continues today with the Small Block Modified division and the 305 Sprint Cars in competition with qualifying races and features events. The highlight of the day's action is the Small Block Modified 100-lap championship.
Eastern States Sportsman Feature Finish, 50 Laps: 1. Jesse Leiby, 2. Jimmy Johnson, 3. Mel Schrufer, 4. Corey Cormier, 5. Joe Conklin, 6. Cole Hentschel, 7. Connor Otten, 8. Tommy Vigh Jr., 9. Matt Shultz, 10. Kyle Rohner, 11. Bobby DeLeon, 12. Dan Morgiewicz, 13. Joe Bonetti, 14. John Stangle, 15. Bobby Flood, 16. Tyler Boniface, 17. Jared LaBagh, 18. Joey Bruning, 19. Michael Sabia, 20. Jeff Hulseapple, 21. Anthony Falanga, 22. Austin Smith, 23. Fred Proctor, 24. Nick Plumstead, 25. Howie Finch, 26. Billy Eggers Jr., 27. Cody Hunt, 28. Shane Jablonka, 29. Tyler Pirone, 30. Greg Sleight.