Eastern States 100 – Friesen's Road To The Clean Sweep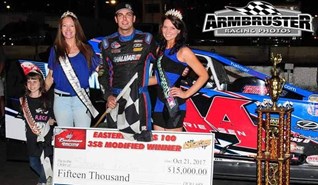 By FRANK CATIZONE
MIDDLETOWN – Stewart Friesen has put himself in position to make a clean sweep of Modified racing action during the 56th annual Eastern States Weekend Festival at the Orange County Fair Speedway.
Friesen, the reigning Eastern States 200 champion, held off Brett Hearn and Gary Edwards Jr. Saturday to capture his second 100-lap Small Block Modified title Saturday evening as well as the first-place base pay of $15,000.
"So far, so good,'' said Friesen, who can bring out the broom in this afternoon's 200-lap Modified main event, which offers a whopping $35,000 to the winner. "This entire Halmar racing team has worked very hard giving me a good race car and we'll just wait and see what happens.
"I'm very pleased with how things have gone this weekend. But there is some real good competition here and I know it's going to be a battle tomorrow. We'll just stick to our game plan and hope things will work out.''
Friesen, who qualified for the event behind the sixth fastest lap in time trials, chased Hearn and Edwards during the early stages of the race. Hearn and Edwards swapped the lead back-and-forth during the first 23 laps before Edwards took command on the 24th circuit around the five-eighths mile, hard clay oval.
Friesen was able to sneak ahead of Hearn following a restart on the 25th lap and chased Edwards until Brad Horton slowed in the fourth turn to force a caution with 30 laps in the books.
Hearn returned the favor on Friesen on the 31st lap when he regained second place following a restart and then began chasing Edwards, who was beginning to build a comfortable cushion. But Edwards retired to the pits to change a right rear tire under caution after 41 laps were completed to hand first place back over to Hearn.
"We planned on coming in to change the right rear when we got the opportunity,'' said Edwards. "I came in when the race was cautioned after the 41st lap. I didn't have a problem with my tire, but the way everyone was getting flats, we felt it was the right thing to do.
"It was difficult coming back up through the field after we pitted, but there were so many cautions with all the flat tires. I got a left front flat two laps from the finish and it dropped me back to fifth. But this was the best showing I've ever had in this race.''
Hearn, who has won this race more than anyone in Eastern States history, was now the leader again, but he had his hands full with Friesen not too far behind. Neither Hearn or Friesen pitted to change tires during the course of the race, but Friesen kept a watchful eye on his rival.
Friesen nearly snuck around Hearn while racing through the first and second turns as the race progressed, but just didn't have enough momentum to pull off a pass. However, Friesen switched lanes on the 64th lap and dove under Hearn take gain control off the second turn.
"It was definitely a battle out there and certainly isn't easy getting past Brett…especially at this place,'' said Friesen. "All I had to do was make one mistake, and I know he could have returned the favor on me.''
Last year, Friesen utilized a last-lap pass between the third and fourth turns to steal a win away from Hearn for his first Eastern States 200 title. Hearn's car came up with a flat tire and he drifted back to third place at the finish.
But there would no chance of that as Friesen was able to stay ahead despite several more cautions periods until the end.
However, Friesen said he took a look at his tires under red flag conditions when Andy Bachetti slammed hard into the homestretch wall after making contact with Edwards on a 98th lap restart. Horton's car came crashing into the inside jersey barrier as several cars were involved in the incident.
Bachetti, who was running fourth at the time, was transported by ambulance into the pits following the accident to be checked out.
"We didn't have any plans on stopping for a tire change,'' said Friesen. "In fact, I took a look back at my right rear under that red stop and knew we were just fine. But I must admit that I was worried with all of the cautions because you just don't know what can happen.''
Hearn settled for a second-place finish with Tommy Meier, Tim Hindley, Edwards, Craig Mitchell, J.R. Heffner, Jesse Leiby, Allison Ricci and Matt Janiak rounding out the top 10.
Middletown driver Thomas Radivoy picked up the first Eastern States crown of his racing career as he led the entire 20-lap distance to capture the Capital Region Sprint Agency main event for the touring 305 sprint car drivers.
Radivoy started on the pole and never wavered during the race as he finished ahead of Bobby Hackel, Jeff Trombley, Billy VanInwegen and Dana Wagner for his third OCFS win of the 2017 season.
Eastern States 100 Feature Finish: 1. Stewart Friesen, 2. Brett Hearn, 3. Tommy Meier, 4. Tim Hindley, 5. Gary Edwards Jr., 6. Craig Mkitchell, 7. J.R. Heffnerf, 8. Jesse Leiby, 9. Allison Ricci, 10. Matt Janiak, 11. Brian Krummel, 12. Michael Maresca, 13. Dillon Steuer, 14. Chris Stevens, 15. Anthony Perrego, 16. Patrick Reiser, 17. Yanick Mathieu, 18. Ken Tremont Jr., 19. Scott Flammer, 20. Andy Bachetti, 21. Danny Creeden, 22. Brendan Finley, 23. Joe Conklin, 24. Tyler Boniface, 25. Frank Venezia, 26. Brad Horton, 27. Tyler Dippel, 28. C.G. Morey, 29. Chris Shultz, 30. Mike Mahaney, 31. Zack Vavricka, 32. Danny Cronk, 33. Sean Mandel, 34. Tom Hindley, 35. Jerry Higbie, 36. Frank Cozze.
CRSA 305 Sprint Car Feature Finish, 20 Laps: 1. Thomas Radivoy, 2. Bobby Hackel, 3. Jeff Trombley, 4. Billy VanInwegen, 5. Dana Wagner, 6. Frank Jashembowski, 7. Brian Krummel, 8. Tyler Jashembowski, 9. Geoff Quackenbush, 10. Peter Dance, 11. Scott Frack, 12. Scott Flammer, 13. Jerry Sein, 14. Christian Rumsey, 15. John Scarborough, 16. Daren Bolac, 17. Craig Pelligrini, 18. Chuck Alessi, 19. Eddie Strada, 20. Tyler Boniface, 21. Emily VanInwegen, 22. B.K. Rizzo, 23. Sydney Prince. Did Not Start: Dan Hennesy.