Chris Shultz And Anthony Perrego Win OCFS Nostalgia Night Features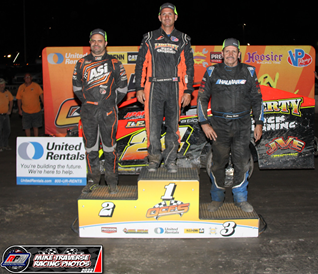 After Anthony Perrego won the holdover Joey Falanga Memorial feature, it was Chris Shultz taking the regularly scheduled United Rentals DIRTcar Modified feature, holding off Perrego. It was the first win for Shultz since 2014 and his 15th career Modified win.
Perrego and Danny Creeden made up the front row as the field came to green. Perrego, in the Vinny Salerno #4, was the early leader with Mike Gular moving into 2nd. As a series of restarts slowed the race, Max McLaughlin was moving up through the cars. Mclaughlin was up to 6th from 13th by lap 5. McLaughlin was up to 3rd when caution slowed the field after 9 laps were done.
On the restart, Bobby Flood had a slow rollover, but was uninjured.
The next restart saw McLaughlin move past Gular into 2nd. After another caution, it gave Max a chance to start side-by-side with Perrego. But Anthony was again able to put distance between him and McLaughlin. At the finish, it was Perrego with a 2.4 second margin of victory over McLaughlin. Craig Mitchell had a steady race to finish 3rd with Gular 4th and Tanner VanDoren 5th. Matt Janiak was 6th and Tyler Boniface 7th. Creeden recovered from 2 flat tires and a spin after contact to finish 8th. Billy VanInwegen was 9th and Tommy Meier 10th.
In the regularly scheduled feature, Shultz was the early leader over first Meier, then Jimmy Horton. Perrego was in contention from 6th. On a lap 4 restart, Perrego got a great jump on the outside and actually nosed ahead of Shultz. But Chris held firm and kept the lead, With the lower groove now the preferred line, positions changed little through the balance of the race. Shultz was never very much ahead of Perrego, but Anthony was unable to mount a challenge to Shultz.
At the finish, it was Shultz by 6/10ths of a second over Perrego with Horton 3rd, Boniface 4th and McLaughlin 5th. Matt Sheppard was 6th with Janiak 7th, Creeden 8th, Gular 9th and VanInwegen 10th.
Tommy Meier was an impressive winner in the H.O. Penn Small Block Modified action on Saturday. The non-stop feature saw Meier take the early lead from Alex Tonkin on lap 3 and then proceed to dominate the lead.
At the finish, it was Meier with a 1.9 second cushion over Tonkin with Corey Cormier 3rd. Dillon Steuer 4th and Ryan Walther 5th completed the top 5. Spots 6-10 were Jimmy Spellmon 6th, Allison Ricci 7th, Craig Mitchell 8th, Mike Gular 9th and Billy VanInwegen 10th.
Grant Hilfiger moved up quickly from 8th starting spot, bided his time, took the lead at halfway and cruised to a win Saturday to take the Arkel Motors Sportsman feature win.
It was John Bockhorn with the early lead over Ashton Dewitt. By lap 2, Hilfiger had already advanced into 2nd. Hilfiger steadily moved in on Bockhorn. and at halfway, made the pass to take the lead. With Hilfiger and Bockhorn continuing running 1-2, Brian Krummel was coming from deep in the pack to drive into the top 5. Krummel made the pass of Bockhorn on lap 16 for 2nd, but Hilfiger was far out front. At the finish, it was Hilfiger, becoming the first Sportsman repeat winner in 2022. Krummel finished 2nd, 5.4 seconds behind Hilfiger. Josh Allen moved into 3rd late in the race with Bockhorn 4th and Greg Sleight 5th. Ryan Neiger was 6th, Dewitt 7th, Troy Arnold 8th, Jared LaBagh 9th and Dominic Roselli 10th.
Mark Connoly Jr. was a first time Precision Hydraulic and Oil Rookie Sportsman winner. Mike Mikulski was the early leader with Connoly Jr. taking the lead on lap 4. Connoly Jr. was able to hold the top spot through a series of cautions which ended the race after 11 0f the 12 scheduled laps. Connoly Jr. was the winner over Kevin Murphy with Mikulski 3rd, Mike Weslowski was 4th and Joey Conklin 5th. RJ Sherman was 6th with Mark Shupp 7th, Walt Henry 8th, Shawn Murphy 9th and Thor Holmgren 10th.
There will be no racing on Saturday, June 11th as the Spring Smashtacular takes over the speedway. The next racing event will be on Saturday, June 18th.
According to Jeremie Corcoran, new clay is scheduled to be put down starting Sunday. A possible practice session on the new surface once it's completed is a possibility. Stay tuned to the speedway's social media pages for updates.