Big Block Derby Qualifying and the Hot Lap Hero Award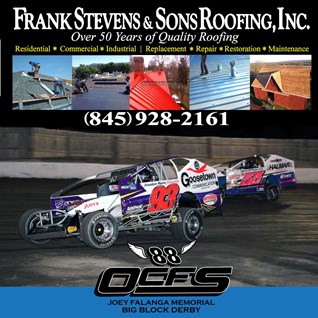 Saturday Big Block events at OCFS play big into the new Big Block points system. The "Win and You're In" feature makes outside invading drivers more easily eligible for the $25K champions prize. With many new Thursday night United Rental DIRTcar Big Block Modified races on the schedule, invaders from other Saturday night tracks, or series, can come looking for a win and a shot at the title. Saturday's become important for OCFS's regular drivers who are racing for the championship. Bucking that assumption however, opening night saw local regular (and multi-time, multi-divisional winner) Tommy Meier take it away from invaders like Mat Williamson, Stewart Friesen and Max McLaughlin.
Now on our second night of Big Block competition, May 1 will see the return of invading drivers still, so it's anyone's guess as to who will win in, an outsider, or an OCFS regular.
A feature of many of 2021's United Rentals DIRTcar Modified races is a tweak to the qualifying procedures, this week's Joey Falanga Memorial Big Block Derby will feature a "Hot Lap Hero" bonus for qualifying.    
· All competitors draw pill to determine Hot Lap group (4groups)
· Each group will go out as a group for Hot Lap session.
· Overall fast Timer wins "Hot Lap Hero" award of $250 presented by Frank Stevens & Sons Roofing.
· "Hot Lap Hero" will draw a number 1 to 5 to determine the Heat invert. Balance of heat field set by descending lap times.
· Top 12 Heat qualifiers redraw at Intermission for Feature starting spot.