Bachetti Secures Seventh Starting Spot For Eastern States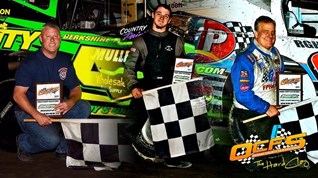 By FRANK CATIZONE Photos By Jane Cella
MIDDLETOWN, NY – Andy Bachetti has been perfect in his only two appearances at the Orange County Fair Speedway this season.
However, while Bachetti was the only multiple winner in Modified competition at the track in 2017, his roads to victory were completely different.
Last Saturday night, Bachetti, after starting on the pole, led the entire 30-lap distance as he earned the seventh starting spot for October's Eastern States 200 at OCFS. The Sheffield, MA., driver held off the late challenges provided by Anthony Perrego to score his 10th career Modified win here.
Bachetti picked up his first OCFS triumph this season on April 9 when he drove all the way back from 20th place to capture his second Hard Clay Open 50-lap event. He chased down Brett Hearn in the closing stages of that race for an impressive win.
Ironically, both Bachetti and Hearn have already secured guaranteed spots for the 200-lap grind, which will be held on Oct. 22. Hearn locked up eighth spot by virtue of his win in the Mr. DIRT Track USA race at Lebanon Valley Speedway on Aug. 31. Both drivers must still attempt to qualify their cars through time trials during the Eastern States Racing Weekend.
"Your starting position is so important because it's so hard to pass at this track,'' said Bachetti. "I was fortunate to pick the pole and the car was just fantastic throughout the race. I had no problems at all and it's good knowing we've already locked down a spot for Eastern States.''
Bachetti, who has called Lebanon Valley his home Saturday night track for the past several seasons, came out in the second group for time trials and turned in the sixth quickest lap of the evening with a time of 21.330 seconds. That clocking was good for an average speed of 105.485 miles per hour around the five-eighths mile, hard clay oval.
Perrego was the only driver to break the 21-second barrier in time trials as he toured the track in :20.903 – an average lap of 107.640. Perrego then went on to capture the first qualifying heat to earn a spot in the feature redraw – which was conducted by the top two finishers from the four heats.
Perrego earned the right to pick first for the redraw and grabbed third place. Bachetti picked next by virtue of his victory in the second heat and grabbed the pole – setting the stage for things to come.
Bachetti stormed in front at the drop of OCFS starter Jerry Enright's initial green until a caution involving Brendan Finley and Kirk Horton between the third and fourth turns brought out a caution with five laps completed.
Perrego vaulted ahead of Craig Mitchell for second place following a sixth-lap restart and then set his sights on reeling in Bachetti. But Bachetti continued his blistering pace as the two drivers drove well ahead of the rest of the 26-car field as the laps ticked off.
Bachetti's pace was slowed a bit as he tried to maneuver around slower traffic as the race was now 20 laps old. He had trouble putting Richie Eurich down a lap as Perrego was able to move into a challenging position.
Eurich dropped out with 23 laps down and Bachetti was able to build his cushion once again. Perrego could only sit back and ride out a second-place performance with Mitchell, Tommy Meier, 2017 track champion Jimmy Horton, Billy VanInwegen, Matt Janiak, Gary Edwards Jr., Danny Tyler and Clinton Mills rounding out the top 10.
Mills, who has been missing from the OCFS Modified ranks, had an impressive showing in his 2017 debut with a new race car.
Mitchell ended an eight-year winless drought as he earned the seventh starting position for the Eastern States 100 by capturing the Small Block Modified 25-lap qualifier. It was Mitchell's fourth OCFS career triumph and his first since June 6, 2009.
Mitchell, who started on the pole, lost first place to Tyler Boniface at the drop of the green and settled into second place. Boniface was enjoying a comfortable lead and seemed headed for the first victory of his Small Block career as the race moved past the midway point.
But Boniface's car suddenly began slowing down after completing the 17th lap and came to a halt on the backstretch as Mitchell inherited first place. It was learned later in the evening that Boniface's car ran out of fuel.
"I really don't know what happened,'' said Mitchell. "But I did see a flame coming from the rear of his car.  The next thing I knew he stopped on the backstretch.''
Jesse Leiby broke on the ensuing restart after grabbing second place to force the race's final caution. Mitchell then went on to take the checkered flag ahead of Chris Stevens, Perrego, Tom Hindley and Michael Storms.
"It's good to finally get back here (victory lane),'' said Mitchell. "It certainly has been a while. It's good knowing I already have a spot for Eastern States, but we'll certainly try to improve on that.''
Leiby, the 2017 OCFS champion, also punched his Eastern States ticket as he picked up his fourth victory this season in the Sportsman 20-lap main event. He was followed across the finish line by Mel Schrufer, Joe Conklin, Joe Bonetti and rookie driver Bobby Flood.
Leiby, who claimed his eighth OCFS career win, used an inside pass off the second turn to grab the lead from Schrufer at the midway point and then went on to earn the seventh starting spot for the Sportsman 50-lap championship race during Eastern States.
Mike Vigiletti pocketed the seventh starting spot for the Street Stock title race during Eastern States when apparent winner Jim Maher and runner-up Tommy Pickles were both disqualified during the post-race inspection.
Vigiletti, who crossed the finish line in third, was awarded his fifth victory of the season and the 27th of his OCFS career because of what OCFS officials said were unspecified rule infractions by the two drivers.
Joel Murns Jr. followed in second place with Charlie Donald, Kevin Corman and Wayne Taylor rounding out the top five.
Modified Feature Finish, 30 Laps: 1. Andy Bachetti, 2. Anthony Perrego, 3. Craig Mitchell, 4. Tommy Meier, 5. Jimmy Horton, 6. Billy VanInwegen, 7. Matt Janiak, 8. Gary Edwards Jr., 9. Danny Tyler, 10. Clinton Mills, 11. Chuck McKee, 12. Bob McGannon, 13. Donnie Wilson, 14. Matt Hitchcock, 15. Chris Whitehead, 16. Richie Eurich, 17. Chris Shultz, 18. Jimmy Spellmon, 19. Corey Lowitt, 20. Mike Ruggiero, 21. L.J. Lombardo, 22. Steve Dodd, 23. Jerry Higbie, 24. Kirk Horton, 25. Brendan Finley, 26. Danny Cronk. Did Not Qualify: Tyler Dippel, Richard Smith, Donnie Elliott, Rob Rowe, Joey Falanga.
Small Block Modified Feature Finish, 25 Laps: 1. Craig Mitchell, 2. Chris Stevens, 3. Anthony Perrego, 4. Tom Hindley, 5. Michael Storms, 6. Patrick Reiser, 7. Joey Falanga, 8. Rob Rowe, 9. Zack Vavricka, 10. Don Smith Jr., 11. Jesse Leiby, 12. Tyler Boniface, 13. Tyler Treacy, 14. John Farissier, 15. Frank Venezia, 16. Bob McGannon, 17. Jerry Higbie, 18. Rich Eggers, 19. Scott Flammer, 20. Richie Eurich, 21. Gary Edwards Jr. Disqualified: Donnie Elliott.
Sportsman Feature Finish, 20 Laps: 1. Jesse Leiby, 2. Mel Schrufer, 3. Joe Conklin, 4. Joe Bonetti, 5. Bobby Flood, 6. Patrick Murphy, 7. Connor Otten, 8. Jeff Hulseapple, 9. Leo Fotopoulos, 10. Troy Arnold, 11. Jimmy Johnson, 12. Danny Carlough, 13. Anthony Falanga, 14. Matt Shultz, 15. Mike Bull, 16. Brett Weslowski, 17. Cole Hentschel, 18. Milton Mann, 19. Kyle Rohner, 20. Roger Henion Jr., 21. Dan Morgiewicz, 22. Austin Smith, 23. Dylan Smith, 24. John Leiby. Did Not Qualify: Mike Orlando, Bryan Jones, Erin Paulison, Brian Durbin, Richie Ryder, Anthony Horton, Peter Carlotto, Jason Armstrong, Bob Wosyluk, Jimmy Leiby, Howie Finch, Chris Grispin, Nick Plumstead, Carl Bittenbender, Mike Talmadge, Chris Raser, Jamie Doolan, Brad Horton.
Street Stock Feature Finish, 20 Laps: 1. Mike Vigiletti, 2. Joel Murns Jr., 3. Charlie Donald, 4. Kevin Corman, 5. Wayne Taylor, 6. Emerson Cargain Sr., 7. Scott Gumaer, 8. Dan Maher, 9. Shawn Maher, 10. Joe Scheffold, 11. Ryan Modiano, 12. Shawn Johannessen, 13. Pete Wiegand. Did Not Start: Corey Stanton. Disqualified: Jim Maher, Tommy Pickles.