A SHOWDOWN FOR HALMAR TEAMATES AND TIM HINDLEY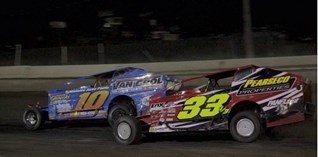 By FRANK CATIZONE
MIDDLETOWN, NY – A showdown between Halmar International racing stars Stewart Friesen and Jimmy Horton, and the return of fan favorite Tim Hindley had the Orange County Fair Speedway audience buzzing last Saturday night as the Modified 30-lap feature entered its closing stages.
Friesen, who was seeking his first win here in 2016, appeared to have things well in hand as he dominated most of the event. However, the emergence of Horton at the midway point and Hindley's drive from deep in the pack had the crowd at the edge of their seats when OCFS starter Randy Filipowski displayed five laps to go to the leaders.
Hindley, who was making his first Modified start of the season, was pressuring Horton for second place as he drove the outside lane to perfection. Horton took heed to Hindley's challenges and moved to the outside lane as well. It proved to be the turning point in the race.
Because Horton realized he could get a good hold on the racing surface on the outside and utilized that to his advantage as he raced around Friesen off the fourth turn on the 29th lap. The Neshanic Station, N.J., legend then went on to end a 20-year winless drought at OCFS as he notched his first victory since Aug. 31, 1996.
Horton, a two-time track champion here, hasn't been a regular competitor at OCFS for many seasons. But his merger with Halmar owner Chris Larsen brought him back in 2016. Horton now has 15 career wins at the track.
Friesen also joined forces with Halmar and is still seeking his first OCFS win this season. The Sprakers driver started outside pole after winning the second qualifying heat and was in his best position this season to accomplish the feat.
Friesen stormed out to a commanding lead over Chris Shultz and looked well en route to victory before L.J. Lombardo slowed action with a fourth-turn mishap with 12 laps completed. Craig Mitchell passed Shultz for second place on the restart as Friesen continued to dominate.
A second-turn tangle involving Shultz and Bob McGannon slowed action again with 15 laps completed. Horton vaulted past Jerry Higbie and Mitchell to grab second place on the ensuing restart to set the stage for his battle with Friesen.
Hindley, meanwhile, was racing in third place by the 20th lap as he overtook Tommy Meier and Higbie following another restart. Hindley then began closing in on Horton.
"I knew someone was right there because I could hear them,'' said Horton. "I thought it might have been Meier, but then Hindley showed himself to the outside. I decided to go to the top and was surprised how much grip I got out there.
"That really proved to be the difference because my car just stuck to the track. Stewie was racing on the bottom and guarding the inside of the track. I just went around him off the fourth turn and that was it. I have Hindley to thank for showing me how good the outside was.''
The win also earned Horton a guaranteed starting spot for the King of the Catskills championship race at Accord Speedway in September. Horton said he plans to make the event.
Hindley was also able to get around Friesen to finish in second place. Friesen followed in third with Higbie, Meier, Mitchell, Jeremy Markle, Michael Storms, Billy VanInwegen and Chris Whitehead rounding out the top 10.
Friesen increased his cushion to five points over Higbie (1045) entering the season finale on Saturday. Meier (1034), VanInwegen (1033), Mitchell (1002) and Horton (1000) follow.
Jeff Hulseapple and Frank Venezia shared the spotlight in Sportsman competition as OCFS presented a pair of 15-lap main events for the division.
Hulseapple picked up his first victory in more than 19 seasons in the Sportsman nightcap as he outraced Jesse Leiby and Allison Ricci to earn his fourth career triumph at the track. It was Hulseapple's first trip to the winner's circle since July 12, 1997.
Hulseapple, after picking fourth starting spot, powered ahead of Ricci following a seventh-lap restart and then held off the late charge by Leiby to end his long winless streak. Ricci, Tyler Boniface and Chris Stevens rounded out the top five.
Venezia grabbed his second win of the season in the opener as he finished ahead of Boniface, Leiby, Troy Arnold and Rafaele Carson.
Venezia got the jump on Arnold following a ninth-lap restart and then went on to score his 12th career win at OCFS.
Boniface all but locked up his first Sportsman championship as he owns a 91-point lead over Leiby entering the season finale. Boniface only needs to start the feature to secure the crown.
Thirteen-year-old driver Bobby Flood and Patrick Reiser highlighted racing in the Rookie Crate Sportsman ranks as each won a 12-lap main event.
Flood, a graduate of slingshot racing, earned his first career victory as he powered past Ashley Rogosich following an eighth-lap restart and then went on to finish ahead of Danny Carlough, John Gilroy, Rogosich and Tommy Zwart.
Reiser picked up his second triumph of 2016 as he finished ahead of Matt Shultz, Dylan Smith, Jake Granacker and John Miller.
Jim Maher grabbed his third straight victory and his fifth win this season as he captured the final leg of the Crane Golf Street Stock Challenge.
Maher, who wrestled first place away from Emerson Cargain Jr. on the ninth circuit of the 15-lap race, finished ahead of Jim Hajkowski, Charlie Donald, Emerson Cargain Jr. and Emerson Cargain Sr. The 14th win of his OCFS career also enabled Maher to tie the elder Cargain for first place in the final Crane standings with 370 points apiece.
Maher also took over first place in the track standings entering the season finale. He owns a five-point cushion over Mike Vigiletti.
Darrel Hulbert captured the Northeast Vintage Modified race with Jimmy Johnson and John Hager following.
Modified Feature Finish, 30 Laps: 1. Jimmy Horton, 2. Tim Hindley, 3. Stewart Friesen, 4. Jerry Higbie, 5. Tommy Meier, 6. Craig Mitchell, 7. Jeremy Markle, 8. Michael Storms, 9. Billy VanInwegen, 10. Chris Whitehead, 11. John Lieto, 12. Brendan Finley, 13. Richie Eurich, 14. Bob McGannon, 15. Danny Cronk, 16. Chris Shultz, 17. Joe Puzzella, 18. Gary Edwards Jr., 19. Matt Janiak, 20. L.J. Lombardo, 21. Mike Horton, 22. Kirk Horton, 23. Donnie Wilson, 24. Mike Kolka. Did Not Start: Jimmy Spellmon.
First Sportsman Feature Finish, 15 Laps: 1. Frank Venezia, 2. Tyler Boniface, 3. Jesse Leiby, 4. Troy Arnold, 5. Rafaele Carson, 6. Jimmy Johnson, 7. Jeff Hulseapple, 8. Allison Ricci, 9. Dan Morgiewicz, 10. Chris Stevens, 11. Patrick Murphy, 12. Tommy Vigh Jr., 13. Greg Sleight, 14. Mel Schrufer, 15. Jeff Richardson, 16. Joe Falanga, 17. Leo Fotopoulos, 18. Matt Hitchcock, 19. Jamie Yannone, 20. Eddie Burgess, 21. Matt Burke, 22. Howie Finch III, 23. Joe Bonetti, 24. Austin Smith, 25. Joe Conklin. Did Not Qualify: Mike Traver, Connor Otten, Billy Eggers Jr., Pete Goydich, Steve Eubanks, Aaron Doolittle, Corey Cormier, Doc Young, Roger Henion Sr., Anthony Falanga.
Second Sportsman Feature Finish, 15 Laps: 1. Jeff Hulseapple, 2. Jesse Leiby, 3. Allison Ricci, 4. Tyler Boniface, 5. Chris Stevens, 6. Patrick Murphy, 7. Joe Falanga, 8. Troy Arnold, 9. Mel Schrufer, 10. Dan Morgiewicz, 11. Leo Fotopoulos, 12. Matt Burke, 13. Howie Finch III, 14. Jeff Richardson, 15. Eddie Burgess, 16. Jamie Yannone, 17. Joe Bonetti, 18. Tommy Vigh Jr., 19. Rafaele Carson, 20. Austin Smith, 21. Greg Sleight, 22. Matt Hitchcock, 23. Jimmy Johnson, 24. Frank Venezia. Did Not Start: Joe Conklin.
First Rookie Crate Sportsman Feature Finish, 12 Laps: 1. Bobby Flood, 2. Danny Carlough, 3. John Gilroy, 4. Ashley Rogosich, 5. Tommy Zwart, 6. George Begg, 7. Michael Giulano, 8. Brad Horton, 9. Bobby Gage, 10. Russell Crotty, 11. Richie Ryder, 12. Mark Connoly, 13. Roger Henion Jr., 14. Cody Hunt, 15. Chris Raser. Did Not Start: Jared Miller.
Second Rookie Crate Sportsman Feature Finish, 12 Laps: 1. Patrick Reiser, 2. Matt Shultz, 3. Dylan Smith, 4. Jake Granacker, 5. John Miller, 6. Erin Paulison, 7. Kyle Jashembowski, 8. Taylor Hurban, 9. Michael Bull, 10. Richie VanOrden, 11. Chet Doolan, 12. Rich Eggers, 13. Joel Murns Jr. Disqualified: John Farissier, Stan Vishinski IV.
Street Stock Feature Finish, 15 Laps: 1. Jim Maher, 2. Jim Hajkowski, 3. Charlie Donald, 4. Emerson Cargain Jr., 5. Emerson Cargain Sr., 6. John Hechinger, 7. Mike Vigiletti, 8. Joel Murns Jr., 9. Terry McNamara, 10. Mario Contarino, 11. Dennis Caine, 12. Tim Daly, 13. Pete Wiegand, 14. Wayne Taylor, 15. Kevin Schlossareck, 16. Tommy Pickles, 17. Paul Maiolo. Did Not Start: Steve Johannessen, Jim Maher Sr.
Northeast Vintage Modified Feature Finish (top 5): 1. Darrel Hulbert, 2. Jimmy Johnson, 3. John Hager, 4. Rob Sanford, 5. Bob Schmidt.