(6/20/2020) - Perrego Takes OCFS Big Blocks; Big Crash Decimates Field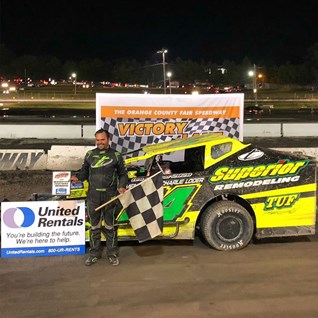 Anthony Perrego continued his winning ways Saturday night at Orange County Fair Speedway, guiding Brian Smith's Superior Remodeling No. 44 TEO to victory in a Big Block Modified 30-lap feature race that was red flagged twice and wrecked half a dozen cars in a high speed backstretch mishap. 
 The Modified delays, coupled with a much longer delay by rain earlier in the evening caused the track to run to curfew, necessitating the postponement of the Sportsman feature. 
 After Matt Sheppard recorded the fastest time in practice, a thunderstorm swept over the speedway, changing track conditions. Jack Lehner, Jimmy Horton, Dillon Steuer and Kirk Horton won the four Modified heat races setting the field for the Modified feature in which all cars started. 
 Kirk Horton and rookie John Brown led at the start with Brown, making just his third ever Big Block start, leading the way. Brown was then caught and passed by Steuer for the lead. Steuer's lead vanished when Chris Shultz spun and the caution flag came out.  
 Craig Mitchell overhauled Steuer on the restart for the lead. Perrego was on the move, gaining second from Steuer and setting his sights on leader Mitchell. 
 Brown, Michael Storms, Sammy Martz, Rich Eurich and Shultz crashed off turn two, setting up a battle on the restart for the race lead among Mitchell and Perrego. 
 A lap into the restart, a high speed backstretch crash stopped the race. Eric Holmgren flipped and ended upside down, while his car and the No. 97 of Jerry Higbie both caught fire. Josh Delea, also involved in the tangle, aided Holmgren whose overturned car flared up. No drivers were injured. 
 The remainder of the race saw two and three wide racing with Perrego taking the lead from Mitchell after Jimmy Horton worked his way to the front only to drop out with mechanical issues for the third straight race. 
 Max McLaughlin, who was piloting a Halmar/Madsen No. 20 ride for the first time, made his way inside the top five  only to fall also to mechanical issues that ended his bid. Sheppard, who was the points leader coming into the event, raced his way up to third place. Billy VanInwegen and Tyler Dippel both fought hard to make it to the top five.  
 The Sportsman feature was postponed owing to the lateness of the hour because of the extensive rain delay after warmups. 
 Modified Feature  (30 Laps): 1. Anthony Perrego, 2. Craig Mitchell, 3. Matt Sheppard, 4. Billy VanInwegen, 5. Tyler Dippel, 6. Jimmy Spellmon, 7. Matt Hitchcock, 8. Bob McGannon, 9. Donnie Wilson, 10. Tyler Boniface, 11. Bob Hentschel, 12. Danny Cronk, 13. Rich Eurich, 14. Max McLaughlin, 15. Dillon Steuer, 16. Matt Hitchcock, 17. Chris Whitehead, 18. Jimmy Horton, 19. Jack Lehner, 20. Tommy Meier, 21. Kirk Horton, 22. John Brown, 23. Michael Storms, 24. Tyler Jashembowski, 25. Sammy Martz, 26. Jerry Higbie, 27. Josh Delea, 28. Eric Holmgren, 29. Brendan Finley, 30. Chris Shultz. DNS: Gary Edwards, Jr. 
 Sportsman Feature: Postponed – Curfew Caused By Rain Delay