4/17/2021 - Anthony Perrego returns to Victory Lane at OCFS 2021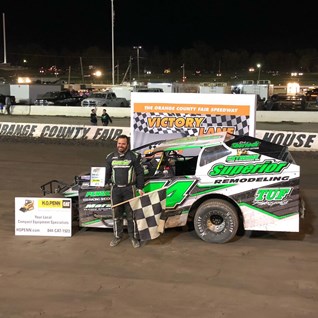 On a crisp spring evening, the action was hot and heavy at The Legendary House Of Power. The H.O Penn Small Block Modifieds were the main event of the night, with a 25 lap affair that required four heat events and two last chance qualifiers to set the grid. John Ferrier, Tanner VanDoren, Ray Hall Jr, and Randy Sweetman collected the heat wins while Danny Creeden and Kevin Root collected the last chance qualifier wins.

Veteran OCFS competitor John Ferrier and invading Lebanon Valley regular Ray Hall Jr. made up the front row. As soon as the green flag dropped Ferrier took off, however a major pile up involving the entire midfield would bring out a red flag. The incident involved nearly a third of the competitors including Rich Eurich, Allison Ricci, and Matt Janiak ending their nights shortly. On the restart, Ferrier and Hall would come to the green with Ferrier again gaining some track but it wasn't too long before a very fast Ray Hall Jr would make his way around the Ferrier #220. As soon as Hall took the lead, another caution would be displayed.

On the following restart Hall Jr. maintained his lead. Behind him however, a fast charging Superior Remodeling #44 of Anthony Perrego making his presence felt. Perrego would find his way around Randy Sweetman and Jimmy Spellmon before coming in hot on the heels of Ray Hall Jr.. As the hunt progressed another caution would restack the field and the lead that Hall had over Perrego was gone. On the next green Hall got out ahead with Perrego in tow. Behind both of them a fast approaching Jerry Higbie would be on his way up into the top three. Before the checkered would fly, Perrego was able to take advantage of a small hiccup by Hall and snag the lead. From that point on, Perrego the defending track champion would find himself in place very familiar; victory lane!

The 20 lap Arkel Motors Sportsman event, as announcer Tim Pitts would say, was a barn burner. Jared Miller and Tighe Sherlock started front row. After a no-start caution, the green flew but a caution would immediately follow for an incident in turns 3 and 4 and at the same time, bad luck would strike front running Sherlock as his car would come to a stop on the backstretch. On the start, Miller and now Cody Higbie would take the green first. Miller got out front as Higbie had to deal with a stout #395 of Butler NJ's Jake Bedell. As Bedell and Higbie battled a stout pack of competitors advanced forward to partake in the battle for the lead. Bedell would slip on by Higbie before taking the lead from Miller. Bedell was starting to stretch out his lead, as now Cody Higbie, Jared Miller, Jared LaBagh, and Brian Krummel would battle for 2nd on back. LaBagh would take the highside and work his way into 2nd with the others in tow. As LaBagh grabbed 2nd from Higbie, Brian Krummel would make his way around both Higbie and LaBagh and would have his sights set on Bedell.

A caution would come out just past the halfway mark for Bobby Flood. The lead Bedell had would disappear with a very fast Brian Krummel restarting next to him. At the restart it was Krummel who would take off like a rocket into the lead. Jeff Hulseapple added himself into the mix dueling with Bedell for second, however neither of the two could stop Krummel's path to victory.

The 15 lap NAPA Northeast Parts Group Street Stock feature kicked off the points season for the division. Bridgeport Speedway regular Jack Beaumont and Wayne Taylor in a newly numbered 414 started front row. Wayne Taylor, who has more laps on the track than most, got out to a quick lead over Beaumont. A returning Mike Vigiletti followed behind Taylor and took over second. As Taylors lead extended competitors like Charlie Donald and Bobby Sleight Jr presented themselves into the top five. The first caution came out a few laps in for Charlie Donald who found himself in trouble in turn 3. Wayne Taylor and Mike Vigiletti, two of the longest competing Street Stock drivers in the field would bring the field back to the green but it was Ryan Modiano who would come on strong taking over third spot. It was then that Beaumont came back alive and passed Modiano. Beaumont then made his way around Vigiletti. It was then the final caution was called for Modiano. Ryan's car stopped with what was said to be a battery issue just one lap shy of one of the best runs he's had at The Legendary House Of Power. On the final restart it was Beaumont who would collect the win. However after a post race inspection Beaumont was disqualified with Vigiletti being credited the win.

Evergreen Fuels was a bonus sponsor for the Sportsman feature winner of the night. Rock Fantasy also was a bonus sponsor for the Street Stock division top three. Behrent's Speed Shop sponsored the Hard Charger award for the Small Blocks and RICON sponsored the Hard Charger for Sportsman.
HO PENN 358 MODIFIED FINISH
Pos Competitor Total Time Diff Laps Best Lap Best Lap No. Best Speed
1 44P Anthony Perrego 34:10.538 0.000 25 22.029 5 102.138 mi/h
2 72 Ray Hall Jr 34:17.758 7.220 25 22.200 6 101.351 mi/h
3 97 Jerry Higbie 34:20.226 9.688 25 23.232 19 96.849 mi/h
4 26R Corey Cormier 34:20.590 10.052 25 23.198 8 96.991 mi/h
5 16X Danny Creeden 34:22.244 11.706 25 23.052 21 97.605 mi/h
6 69T Tyler Boniface 34:23.022 12.484 25 22.926 22 98.142 mi/h
7 43 Jimmy Horton 34:23.829 13.291 25 23.213 22 96.928 mi/h
8 48 Randy Sweetman 34:26.064 15.526 25 22.921 10 98.163 mi/h
9 22 Tanner VanDoren 34:26.160 15.622 25 23.065 19 97.55 mi/h
10 51R Brad Rothaupt 34:28.576 18.038 25 23.595 21 95.359 mi/h
11 28 Jimmy Spellmon 34:29.062 18.524 25 22.896 7 98.27 mi/h
12 16R Richard Smith 34:30.489 19.951 25 23.511 17 95.7 mi/h
13 7K Kirk Horton 34:33.753 23.215 25 23.744 3 94.761 mi/h
14 33R Patrick Reiser 34:34.605 24.067 25 23.853 23 94.328 mi/h
15 5L Charlie Loiodice 31:03.143 9 laps 16 23.709 3 94.901 mi/h
16 19H Roger Henion Jr 30:13.019 11 laps 14 23.309 10 96.529 mi/h
17 4* Kevin Root 9:29.960 12 laps 13 23.118 8 97.327 mi/h
18 93X Craig Mitchell 9:31.024 12 laps 13 23.301 10 96.562 mi/h
19 4V Billy VanInwegen 9:31.257 12 laps 13 23.614 9 95.282 mi/h
20 25 Mike Kolka 9:31.357 12 laps 13 23.404 9 96.137 mi/h
21 15M Daniel Morgiewicz 7:16.108 13 laps 12 23.729 7 94.821 mi/h
22 220 John Ferrier 5:12.220 18 laps 7 23.399 1 96.158 mi/h
23 18 Ryan Macartney 28.220 24 laps 1 26.207 1 85.855 mi/h
24 17J Matt Janiak 0.000 0.000 - 0.000 - -
25 10 Rich Eurich 0.000 0.000 - 0.000 - -
26 20B Joe Bonetti 0.000 0.000 - 0.000 - -
27 55 Allison Ricci 0.000 0.000 - 0.000 - -
ARKEL MOTORS SPORTSMAN FINISH
Pos Competitor Total Time Diff Laps Best Lap Best Lap No. Best Speed
1 12C Brian Krummel 10:58.133 0.000 20 23.060 14 97.572 mi/h
2 38 Jared Labagh 11:01.662 3.529 20 23.463 18 95.896 mi/h
3 395 Jake Bedell 11:02.577 4.444 20 23.402 5 96.146 mi/h
4 1X Jeff Hulseapple 11:03.351 5.218 20 23.513 4 95.692 mi/h
5 20B Joe Bonetti 11:03.460 5.327 20 23.361 10 96.314 mi/h
6 21JR Gary Edwards Jr 11:05.349 7.216 20 23.704 19 94.921 mi/h
7 97C Cody Higbie 11:07.184 9.051 20 23.691 2 94.973 mi/h
8 5L Charlie Loiodice 11:09.470 11.337 20 23.770 6 94.657 mi/h
9 24B Joe Bruning 11:10.546 12.413 20 23.875 11 94.241 mi/h
10 27J Jared Miller 11:10.671 12.538 20 23.716 2 94.873 mi/h
11 4A Josh Allen 11:12.727 14.594 20 23.842 3 94.371 mi/h
12 7L Jordan Lawarence 11:13.180 15.047 20 23.815 10 94.478 mi/h
13 97B John Bockhorn 11:13.450 15.317 20 24.016 11 93.688 mi/h
14 5 Ryan Neiger 11:14.147 16.014 20 23.878 8 94.229 mi/h
15 38S Kevin Stevens 11:14.910 16.777 20 24.530 5 91.724 mi/h
16 2 Anthony Falanga 11:17.073 18.940 20 24.234 8 92.845 mi/h
17 49 Aiden Elliot 11:18.182 20.049 20 24.665 8 91.222 mi/h
18 M22 Mike Dubois 11:19.996 21.863 20 24.317 9 92.528 mi/h
19 6M Pat Mann 10:59.454 1 lap 19 24.674 6 91.189 mi/h
20 25J Jason Armstrong 9:14.826 5 laps 15 23.978 6 93.836 mi/h
21 91 Bobby Flood 4:31.923 9 laps 11 23.867 9 94.272 mi/h
22 18W Bobby Waters 2:34.054 14 laps 6 24.654 4 91.263 mi/h
23 1T Tighe Sherlock 0.000 0.000 - 0.000 - -
24 J73 Joe Conklin 0.000 0.000 - 0.000 - -
25 77J Jeff Higham 0.000 0.000 - 0.000 - -
26 78 Grant Hilfiger 0.000 0.000 - 0.000 - -
DQ 21 Jamie Yannone 11:03.070 0.000 20 23.569 19 95.464 mi/h
NORTHEAST PARTS GROUP STREET STOCKS FINISH
Pos Competitor Total Time Diff Laps Best Lap Best Lap No. Best Speed
1 1V Mike Vigiletti 15:56.250 0.000 15 29.678 14 75.814 mi/h
2 414 Wayne Taylor 15:56.565 0.315 15 30.022 9 74.945 mi/h
3 78H Danny Hedges 15:56.912 0.662 15 29.608 8 75.993 mi/h
4 8 Bobby Sleight Jr 15:57.168 0.918 15 29.827 12 75.435 mi/h
5 53 Rob Taylor 15:57.607 1.357 15 29.914 8 75.216 mi/h
6 171 Walt Henry 15:57.667 1.417 15 29.795 11 75.516 mi/h
7 46 Dillon Gannon 15:57.887 1.637 15 30.105 11 74.738 mi/h
8 49 Ron Constable 15:58.170 1.920 15 29.993 12 75.018 mi/h
9 45 Jim Hajkowski 15:58.280 2.030 15 30.092 4 74.771 mi/h
10 J30 Jared Palmer 15:59.265 3.015 15 0.000 - -
11 110 Ben Richard 15:59.358 3.108 15 30.765 15 73.135 mi/h
12 33 David Brantner 16:07.229 1 lap 14 34.547 3 65.129 mi/h
13 07 Ryan Modiano 12:04.463 2 laps 13 29.877 7 75.309 mi/h
14 26 Joe Dembeck 9:15.352 8 laps 7 32.115 4 70.061 mi/h
15 32 Charlie Donald 2:03.014 11 laps 4 30.329 2 74.186 mi/h
DQ 191 Jack Beaumont 15:56.021 0.000 15 29.692 7 75.778 mi/h