2021 MS. OCFS ONLINE PAGEANT SUBMISSIONS OPEN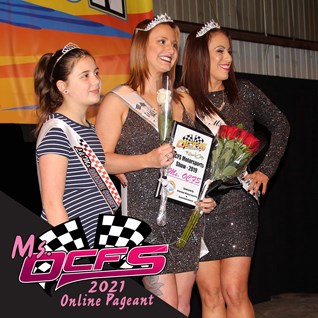 Ms. OCFS is Finally Back! 2021 will reintroduce the pageant as an online one! Our OCFS Motorsports show is still on hiatus, despite a potential loosening of gathering restrictions, the management team at OCFS felt that a focus on the racing and the construction of Victory Speedway was priority. The team wants to ensure that OCFS is ready to accept fans in the stands and drive-ins again, and moving the pits back to the infield like things were before the pandemic restrictions.
To conduct our Ms. OCFS Pageant online, we're asking our contestants to send in photos and pre-recorded videos that will be shared online and judged by our chosen judges.
• Photogenic - Feb 22 - 26. Contestant supplies a photograph in their best/favorite outfit and pose. Show us how photogenic you can be! As Ms. OCFS you will be in many pictures!
• Video Interview - Mar. 1 - 5. Contestant Supplies a video of no more than 90 seconds to include name, age, location, and your personal history at OCFS, how you're currently involved, and why you'd be a great Ms. OCFS.
• Motorsports Wear - Mar. 8 - 12. Contestant supplies a video no less than 45 seconds and under 60 seconds. The idea is to show what you would wear to the track or what be what you wear in the pit area while working with a race team. Be creative, have fun, and let your motorsports passion show.
• Victory Lane/Trophy Girl Wear - Mar. 15 - 19. - Contestant supplies a video no less than 45 seconds and under 60 seconds to include what you would wear to participate in the victory lane pictures.
Contestants will be judged on the following criteria:
PHOTOGENIC - photo clarity, pose, and comfort in your face expression.
VIDEO INTERVIEW - ability to answer the questions and comfort level.
SHOW OFF AND WALK for motorsports wear and victory lane wear portions - outfit choice and fit, walk, and comfort level.
Pageant Rules:
1. Minimum age to enter is 18.
2. The winner will be paid half of any potential prize money upon crowning and the remaining half after the 60th Annual Eastern States Weekend as long as all requirements stated in rule #4 are met.
3. The Winning contestant gives permission to the Orange County Fair Speedway/OME, LLC. and their licensees to use any and all photographs, tapes and/or other of his/her for publicity purposes and in connection with the contestant competition if any portion of them televised, she/he authorizes any assigned television station to use and show the same.
4. Winning contestant agrees to represent and act professionally in the best interest of the OCFS/OME, LLC, throughout their one (1) year reign. Winning contestant also agrees to make a minimum of eight (8) appearances outside of the mandatory appearances listed during their one (1) year reign. MANDATORY APPEARANCES: APRIL 3 OC OVAL KICKOFF, JULY 1 INDEPENDENCE 50's, CHAMPIONSHIP NIGHTS, ESW
5. All contestants will be judged on their personality, poise and appearance in their photo, video Interview, Motorsports Wear and Victory Lane/Trophy Girl Wear Dress Attire videos.
6. Management reserves the right to disallow any clothing which they feel is inappropriate. Any inappropriate actions displayed by any of the contestants will result in disqualification.
7. The judges will determine a 2nd Runner-Up, 1st Runner-Up, and Ms. OCFS Motorsports 2021.This decision will be final.
Pictures/Videos must be submitted by Monday of each contest week (Feb. 22, Mar. 1, Mar. 8, Mar. 15) to jmeier@omeevents.com so they may be posted online for the judging period. If videos are too large for email attachments, use wetransfer.com.