2019 Hard Clay Open | Modified Results | 04-07-2019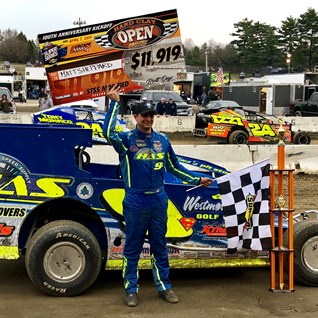 By FRANK CATIZONE 
MIDDLETOWN, NY – Matt Sheppard has stamped his mark on numerous dirt-track racing facilities throughout the eastern United States and Canada. 
Sheppard has been one of biggest winners in Modified competition for the past several seasons and has captured many championships in the process. But one thing has eluded the talented driver during his decorated career – a victory at the Orange County Fair Speedway. 
Sheppard was on hand at OCFS Sunday evening with a throng of 60 talented competitors as this historic speedway was kicking off its 100th year of dirt-track racing with the sixth annual Hard Clay Open. 
Sheppard, who saw victory within his grasp here in the past, wasn't about to let this opportunity slip through his fingers again as he dominated a 30-car starting field to capture the Modified/Small Block Modified 50-lap main event to open the 2019 Super Short Track Series North Region title chase. The Waterloo driver earned the winner's share of $11,919 behind his first OCFS career triumph. 
"We're going to savor this one,'' said Sheppard. It's a huge win for me and also a huge win for my fans. I've come close to getting the monkey off my back here before, but something happened to prevent it. I was just getting tired of finishing second. Finally, I've got one and this has really been a good start to our season.'' 
Sheppard also picked up a $7,500 victory at Grandview Speedway in Pennsylvania on Saturday. 
"What a weekend it has been for us.'' said Sheppard. "The car was really fast at Grandview and what a rocket ship it was tonight. I really felt good after qualifying and knew I had a car capable of winning. 
"I knew after the dash that it really felt good. I drew 12th spot in the redraw, but tonight there would be no excuses. I just hit my marks and what a relief it is to finally get that win at Orange County.'' 
Stewart Friesen, who is the all-time winner of the Short Track Super Series, raced all the way back from 20th starting position to earn the hard charger award behind his second-place finish. Friesen, after looping his car in the fourth turn to his qualifying race, made the field by winning the second consolation event. 
"It was a lot of fun out there,'' said Friesen. "I was able to pass cars on both the inside and outside lines, and actually had a chance to win at the end. But Matt (Sheppard) was just too strong tonight.'' 
Sheppard, who built a commanding lead after grabbing first place from Danny Varin on the 17th lap, watched his lead evaporate with two laps to go when Varin's car stopped on the homestretch after making contact with Danny Creeden's car. 
Friesen started behind Sheppard for the single-file restart, but wasn't able to make a serious challenge for the lead. Sheppard just stepped on the gas and took the checkered flag more than two seconds ahead of Friesen. 
Defending OCFS Modified track champion Anthony Perrego, who started outside pole, finished in third place with OCFS's all-time winner Brett Hearn in fourth. They were followed across the finish line by Mike Gular, Mike Mahaney, Brian Krummel, Danny Johnson, Andy Bachetti, and Billy Decker. 
Johnson, who was lapped early in the race, received the lucky dog pass following an incident on the 31st lap when Brandon Grosso slowed with a flat tire. Johnson, who was positioned in 20th at that point, moved up 12 spots during the final 19 laps of the event. 
Varin, who drew pole position and also won the first qualifying heat, paced the field at the start and led for the first three laps when Perrego was able to move ahead with an inside pass going into the third turn on the fourth circuit. 
Perrego remained ahead until the seventh lap when Brett Tonkin came up with a rear flat on his racer to slow action once again. Varin was able to get the jump on Perrego on the ensuing restart and Sheppard vaulted into third place. 
Sheppard now had his sights on Perrego as Varin was able to build a small cushion ahead of the pack. But Sheppard was finally able to move past Perrego on the 15th lap and then quickly moved in on Varin. 
Sheppard dove down low and utilized an inside pass entering the first turn to power ahead of Varin on the 17th lap. It was all Sheppard from that point on as he built a half a track lead over his competition before Varin's mishap slowed action with two laps remaining. 
Mat Williamson, who drove all the way down from Canada, had a top five finish within his grasp before a flat tire forced him to pit under caution with 48 laps completed. 
 Hard Clay Open Modified Feature Finish, 50 Laps: 1. Matt Sheppard, 2. Stewart Friesen, 3. Anthony Perrego, 4. Brett Hearn, 5. Mike Gular, 6. Mike Mahaney, 7. Brian Krummel, 8. Danny Johnson, 9. Andy Bachetti, 10. Billy Decker, 11. Jimmy Horton, 12. Danny Creeden, 13. Chris Whitehead, 14. Mat Williamson, 15. Allison Ricci, 16. Ryan Watt, 17. Tommy Meier, 18. Brian Gleason, 19. Craig Hanson, 20. Brett Tonkin. 21. Danny Varin, 22. Tyler Dippel, 23. Brandon Grosso, 24. Jeremy Smith, 25. Willie Decker, 26. Rick Laubach, 27. Tyler Boniface, 28. Jerry Higbie, 29. Billy Pauch Jr., 30. Matt Janiak. Did Not Qualify: Dominic Roselli, Ryan Krachun, Sam Martz Sr., C.G. Morey, Ken Tremont Jr., Billy VanInwegen, Tyler Treacy, Joe Judge, Danny Cronk, Craig Mitchell, Billy VanPelt, Roger Henion Jr., Donnie Wilson, Joey Falanga, Joey Bruning, Gary Edwards Jr., Stan Frankenfield, Tim Hindley, J.R. Hulburt, Jeff Heotzler Sr., Michael Storms, Bob McGannon, Jeremy Smith, Mike Kolka, Danny Tyler, Richie Eurich, Kurt Hundeland, Leo Fotopoulos, John Ferrier, Rich Eggers. 
Sportsman Feature Finish, 20 Laps: 1. Grant Hilfiger, 2. Jimmy Johnson, 3. Jesse Leiby, 4. Patrick Reiser, 5. Sammy Martz Jr., 6. Matt Shultz, 7. Jimmy Leiby, 8. Dan Morgiewicz, 9. Ken Ferrier, 10. Will Shields, 11. Tyler Thompson, 12. Ryan Neiger, 13. Nick Plumstead, 14. Jordan Lawrence, 15. Ryan Macartney, 16. Greg Sleight, 17. Austin Smith, 18. Danny Carlough, 19. Joe Toth, 20. Jake Mason, 21. Bobby Flood, 22. Jeffery Lapaime, 23. Jared LaBagh, 24. Scott Zehnacker. Did Not Qualify: Rich Ricci III, John Brown, Bryan Jones, Ken Ryder, Mel Schrufer, Travis Billington, Kyle Redner, Billy Eggers Jr., John Aumick, Charlie Loiodice, Howie Finch III, Winter Mead, Tighe Sherlock, Eric Avernego, Mike Talmadge, Troy Arnold, Anthony Falanga, Bob Jashembowski, Pat Mann, Aaron Doolittle, Willis Mann.