10/23/2020 - Day 1 of ESW 2020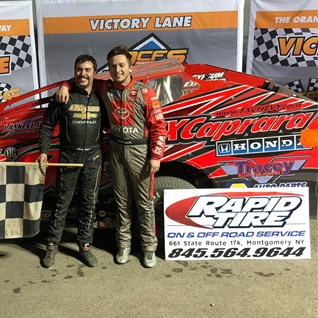 Day one of Eastern States Weekend wrapped up with near 100 drivers qualified for today's events. 
The day kicked off with qualifying for the Sportsman division. A unique twist for the sportsman competitors was after being split up into six groups, drivers only had to beat their fellow group competitors, instead of the overall field. Invading star Kyle Inman topped group 1 while former Sportsman regular Joey Bruning bested group 2. Track Champion Tanner VanDoran out ranked group 3 and invaders Zach Sobotka, Tommy Collins, and Alan Fink all rounded out groups 4,5,and 6.
Six heat events locked in the remaining field with Jordan Lawrence, Kevin Root, Tyler Murray, Gary Edwards Jr., Matt Janczuk, and Mel Schrufer collectively winning their heats while invading stars Joe Toth and Tyler Corcoran grabbed the consi wins.
66 Small Block Modifieds entered yesterday all with one goal; to top the field with the quickest time. When time trials concluded, the invaders locked themselves into the feature event with Jimmy Phelps coming out as top of the field with a time of 23.132. Billy Decker, Tim Sears Jr., Dave Schilling, Rocky Warner, and Ben Bushaw completing the top six. After six heats, Larry Wight, Gary Edwards Jr., Andy Bachetti, Kevin Root, Stewart Friesen, and Tyler Boniface cemented their spots into the 75 lap main event today. The rest of the field will be completed through two consolation events. 
In an interesting twist, the Big Block Modified field had a new level added to their qualifying; the race for the pole. The new event would take the top 6 from time trials and the six heat race winners and have them compete in a twenty lap event where wherever you finish you'll start in today's 200. Tim Fuller topped the field in time trials. Jimmy Phelps, Mat Williamson, Larry Wight, Tim Sears Jr., and Max McLaughlin wrapped up the top six. Jeff Heotzler returned to his home and locked himself into the 200 through heat 1. The Waldwick Warrior Tommy Meier grabbed heat win 2 and 2020 Track Champion Super Matt, Matt Sheppard grabbed heat win 3. Tyler Dippel, Stewart Friesen, and Anthony Perrego collected wins 4,5, and 6. 
In the 20 lap Rapid Tire Race For The Pole, drivers managed to utilize all lanes of the 5/8th mile speedway. Tim Fuller got out to an early lead, but Lightning Larry, Larry Wight found an edge on the top side and managed to find his way around Fuller down the backstretch. The only caution in the event was displayed when Matt Sheppard had issues. However when all was said and done Larry Wight finds himself starting pole for today's Eastern States 200.
MODIFIED FEATURE LINEUP (SO FAR):
1 99L LARRY WIGHT, 2 32C MAX MCLAUGHLIN, 3 19 TIM FULLER, 4 44F STEWART FRIESEN, 5 83X TIM SEARS JR, 6 98H JIMMY PHELPS, 7 33 1/3 TOMMY MEIER, 8 3W MAT WILLIAMSON, 9 95 MATT SHEPPARD, 10 44P ANTHONY PERREGO, 11 1D TYLER DIPPEL, 12 J17 JEFF HEOTZLER, 13 2RJ RONNIE JOHNSON, 14 4SL BOBBY HENTSCHEL, 15 172 DILLON STEUER, 16 35M MIKE MAHANEY, 17 91 BILLY DECKER, 18 2L JACK LEHNER, 19 97 JERRY HIGBIE, 20 JS98 ROCKY WARNER, 21 42P PAT WARD, 22 4* KEVIN ROOT, 23 43 JIMMY HORTON, 24 16R RICHARD SMITH, 25 44X SHANE JABLONKA, 26 1Z JESSICA FRIESEN, 27 4V BILLY VANINWEGEN, 28 11A KYLE ARMSTRONG, 29 69T TYLER BONIFACE, 30 74 JR HEFFNER