$10 Admission Aug. 10th, Kids FREE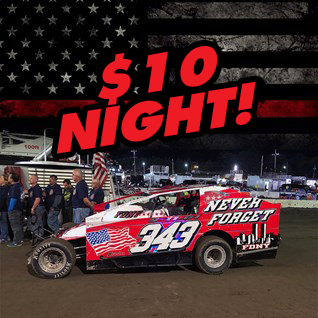 In honor of our first responders in the Fire Dept and EMS, it is just being announced that Saturday, Aug. 10th's racing in addition to be being FREE for Fire and EMS with ID, will feature reduced regular admission at $10 with kids under 10 years old ALSO FREE!
Firemen and EMS (and everyone really!) can now bring their whole families for a steal!  With 2 Big Block features, 2 Sportsman features, a Small Block feature AND a Street Stock feature, this is not one to miss!   
AUGUST 10TH EVENT SCHEDULE
Tentative Schedule. All times approximate and subject to change
2:30 – Pit gates open
4:30 – Grandstand and Drive In open
5:00 – Pack Track. Check Transponders all divisions.
Hot laps Sportsman
Modified Hot Laps
Hot laps Street stocks
6:00 - Small Block 358 Timed Hot Laps – Groups of 7,Top 12 to Feature
6:15 - Sportsman Holdover Feature – 20 Laps
6:45 - Small Block 358 Modified Heats – 8 Laps
7:05 - Big Block Modified Consi – 8 Lap (if necessary, from 8/3)
7:15 - Sportsman Heats – 8 Lap – 3 Heats
7:45 - Big Block Modified Hot Laps Qualified Cars (Top 12 & Heats)
7:55 - Small Block 358 Wheel Spin
8:00 - Street Stock Feature – 15 Laps
8:20 - Small Block 358 Consi – 8 Laps (if necessary)
8:35 - Sportsman Consi – 8 Laps
8:50 - Small Block 358 Modified Feature – 25 Laps
9:10 - INTERMISSION; Wheel spin both divisions. Track Prep
9:30 - 1st Modified Feature Event – 30 Laps
9:50 - Sportsman Feature Event – 20 Laps
10:10 - 2nd Modified Feature Event – 30 Laps
10:30 - All Divisions Victory Lane