Stone Temple Pilots with Tyler Bryant and the Shakedown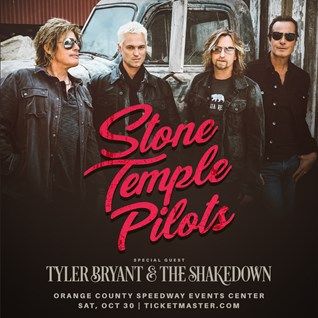 Stone Temple Pilots with Tyler Bryant and the Shakedown
At The Orange County Fair Speedway's Orange County Events Center
Saturday October 30, 2021
Doors at TBD | Show at TBD
Orange Motorsports & Entertainment is pleased to present Stone Temple Pilots with Tyler Bryant and the Shakedown at the Orange County Fair Speedway, Middletown, NY. Ticket Buyers, please do not use digital tickets saved to Apple iPhone Wallet, use the original Ticket Master digital ticket.
General Admission tickets on-sale to the public on Friday, August 20th at 12pm.
About Orange Motorsports and Entertainment:
Orange Motorsports and Entertainment (OME) is the leader for live entertainment production in the Hudson Valley, New York. For additional information, please visit www.omeevents.com.
Tickets: www.ticketmaster.com