Big Block "Twin"tyfive-75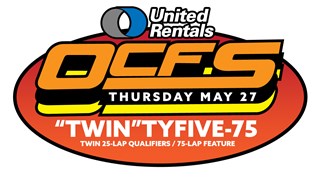 The mighty United Rentals DIRTcar Big Block Modifieds return to Orange County Fair Speedway in Middletown, New York on Thursday, May 27 for their third outing of the 2021 racing season. And this will be unlike any previous race meet in Orange County's long and glorious auto racing history.
Instead of the usual qualifying heat races, the field will be divided and race in two 25-lap preliminary mini-features, with the winners each earning $1,000, and the top-ten finishers advancing to the 75-lap main event where the victor will take home $6,000! A full field of 30 cars will start the feature race---20 from the two 25-lap races and 10 more from a "last chance" B-main.
The Thursday race date assures the addition of several "invading" drivers from other Northeast dirt-surfaced tracks ready to battle Orange County's strong corps of hometown competitors. And the race is a key cog in the season-long point chase that will determine the Modified division track champion. The winner will automatically advance to the eight eligible championship drivers. Over the summer months, that group will whittle down to a "final four," with a deciding race for the championship set for September 2.
Joining the Modifieds on the program will be the Precision Hydraulic & Oil Rookie Sportsman division in a 15-lap race. And to add to the evening's entertainment, Orange County is bringing back one-on-one spectator eliminations, in which entered street legal cars will compete against each other in one-lap "performance runs" until the last man (or woman) standing is declared the winner!
General admission for either the stands or the unique Orange County Drive-In section is $24 adults, $20 seniors, and free for children 12 and under. Rows D, E, and F of the Drive-In can be reserved ahead of time for $25. Unsold spaces in these rows will be available on race day. In the Drive-In, track announcements and race calls can be heard on 107.7 FM.  The Party Deck is available at $140 for four. Fans wishing to reserve Drive-In spaces or the Party Deck should call the Speedway Office at 845-342-2573. The 31st Lap Tavern is open. Spectator gates open at 4:00 pm, Hot Laps at 6:30 pm, and racing at 7:00 pm. Fans unable to attend in person may order multi-camera streaming of the races on the OCFS website, www.orangecountyfairspeedway.net.
Event Schedule
4:00 Pit Gate opens
4:30 Grandstand and Drive In gates open
5:45 Mandatory Drivers Meeting at Scales, Includes Draw for
Starting spots
6:20 Rookies to staging area.
6:30 Hot Laps Rookies
Hot Laps Modifieds
6:55 Pre Race Ceremonies /National Anthem
7:00 Modified 25 Lap Qualifying Event 1 ( 10 Q )
Modified 25 Lap Qualifying Event 2 ( 10 Q )
Spectator Elimination 1 on 1 Races
Modified "B" Main – 12 Laps ( 10 Q )
INTERMISSION
Spectator 1 on 1 Finals - Victory Lane 1st & 2nd
Rookie Sportsman Feature Event – 15 Laps
Rookie Winner Victory Lap / Photos (Top 3)
Modified Feature Event – 75 Laps - 30 Start
Modifed Winner Victory Lap / Photos (Top 3)