Sportsman Triple Crown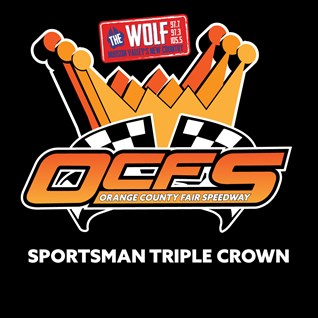 With this special event, its the Sportsman division's time to shine with three 20-lap features. Street Stocks and Rookie Sportsman serve as supporting divisions. Presented by THE WOLF Country
Sportsman/Street Stock/Rookie Sportsman
Following the Memorial Holiday Weekend, Orange County Fair Speedway returns to action on Saturday, June 5 with the Sportsman Triple Crown. The evening of racing action culminates with three 20-lap features races for the Arkel Motors Sportsman division. Also on the program will be the Precision Hydraulic & Oil Rookie Sportsman and the NAPA Northeast Parts Group Street Stocks. WOLF Country 97.7, 97.3, 105.5 FM as well as Arkel Motors are the evening's sponsors.
The event's format will see three (3) 20-lap features for the sportsman, each will pay FULL PURSE and be worth FULL POINTS towards the Arkel Motors Sportsman Championship. The first 20-lap feature will work like any typical Saturday night feature, drivers will run heats and be handicapped as usual. The second feature will see feature no.1's winner draw a random number of 10 through 16 to determine an invert on feature no.1's finish to line up that event. The third feature will have no.2's winner draw again numbers 10 through 16 to line up the last feature of the night.
An overall winner will be determined through points accumulated. The overall points winner will receive an extra $500, with second getting $300, and $100 for third. The overall points winner will also be granted a guaranteed starting spot in the Eastern States Weekend 2021 Sportsman Race. Hoosier tires will also be rewarded to second and third place points finishers.
Good news for fans regarding Saturday, June 5th, GENERAL ADMISSION HAS BEEN REDUCED TO $16 and $12 FOR SENIORS! Fans in both the grandstands and Drive-In can enjoy a price break on admission for a show jam packed with racing!
June 5th RACE EVENT SCHEDULE
3:00 Pit Gate opens
4:00 Grandstand and Drive In gates open
5:30 Mandatory Drivers Meeting at Scales
5:45 – 6:00 Sportsman to staging area.
6:00 Hot Laps Sportsmen
Hot Lap Rookies
Hot Laps Street Stocks
6:45 Pre Race Ceremonies /National Anthem
7:00 4 - Sportsman Heats , 8 Laps each 5 Q, 4 H
Rookie Hot Laps (Round 2)
Street Stock Hot Laps ( Round 2)
Sportsman "B" Main – 12 Laps, 12Q
INTERMISSION
1st Sportsman Feature Event – 20 Laps / 32 Cars Start
Victory Lane winner only photo / draw for invert
Street Stock Feature – 15 Laps
Victory Lane / Top 3 Podium
2nd Sportsman Feature Event – 20 Laps / 32 Cars Start
Victory Lane winner only photo / draw for invert
Rookie Sportsman Feature Event – 15 Laps
Victory Lane / Top 3 Podium
3rd Sportsman Feature Event – 20 Laps / 32 Cars Start
Victory Lane Winner only. Top 3 Overall Triple Crown Drivers to Podium
Both the Orange County Fair Speedway stands and Drive-In are fully open. General admission either for the stands or the Drive-In is $20 adult, $16 seniors, and free for children 12 and under. As a convenience for fans, guaranteed parking spaces in Rows D, E, and F of the Drive-In may be reserved for $15. Unsold spaces in these rows will be available at the gate on race day. In the Drive-In, announcements and race calls are heard over FM 107.7. Fans may purchase tickets by calling the Speedway Office at 845-342-2573. Spectator gates will open at 4:00 pm. Prepaid 2020 Season Tickets will be honored. Hot Laps at 6:00 pm, racing at 7:00 pm. The 31st Lap Tavern is open for adult beverages.
Fans unable to attend in person, may order live multi-camera streaming of the races on the OCFS website www.orangecountyfairspeedway.net.
For competitors: Transponders and one-way radios are mandatory.  Fire suppression equipment is required for all open wheel divisions (Big-Block Modified, Small-Block Modified, Sportsman, and Rookie Sportsman) and strongly recommended for Street Stocks. Street Stocks must have fire extinguisher. Pit passes are $25 for members, $35 non-members. Pit gate opens at 3:00pm.
Media member must request credentials prior to June 5. No requests will be honored on race day. Contact Doug Dulgarian at ddulgarian@OCFSRacing.com with your request.
Both competitors and fans are urged to check the OCFS website frequently www.orangecountyfairspeedway.net for all the latest news and information. Call 845-342-2573 for tickets and Drive-In reservations.