CAMPING/PARKING & ATV PERMITS
UPDATE
PLEASE BE ADVISED THAT THERE IS A WAITING LIST FOR RESERVED CAMPING SPACES IN THE DRIVE-IN AND ON THE FAIRGROUNDS.
OVERNIGHT PARKING (Upper Parking Lot of the fairgrounds): SPOTS AVAILABLE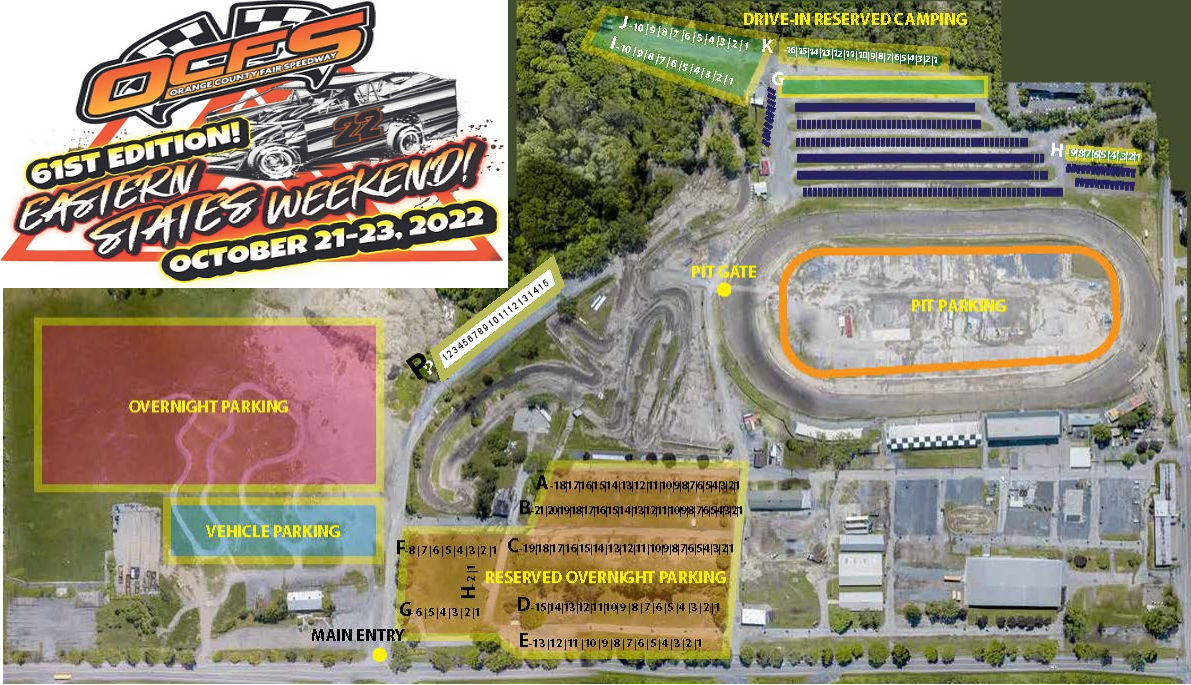 CAMPING              
Reserved Camping - (Upper Drive-In)    (Waiting List)    $200    *Does not include Admission  
Overnight Parking -  (Fairgrounds)  (Waiting List)           $150    *Does not include Admission    
Overnight Parking - (Upper Parking Lot)                        $100    *Does not include Admission    
PARKING PERMITS:      FRIDAY   SATURDAY   SUNDAY      
                                          $15         $10             $5
ATV/GOLF CART PERMITS: $40               
ALL DRIVERS MUST BE 18 YEARS OF AGE AND OLDER AND MUST POSSESS A VALID DRIVER'S LICENSE.
All motorized vehicles must have a permit to be driven on the fairgrounds.
All motorized vehicles may NOT operate before 7:00 a.m.
THERE IS A MAXIMUM SPEED LIMIT OF 5 MPH ON THE FAIRGROUNDS.
ALL RIDERS MUST BE SEATED AT ALL TIMES.
USE EXTREME CAUTION WHEN AROUND PEDESTRIANS OR CROSSING THE TRACK.
The Owner of the motorized vehicle will be held responsible for any accidents and/or damages involving their vehicles.
Motorized vehicles will not be permitted in the Pit Area without proper pit decal.
The fairgrounds/pit area will be patrolled by security personnel throughout the weekend and will be enforcing the above rules.