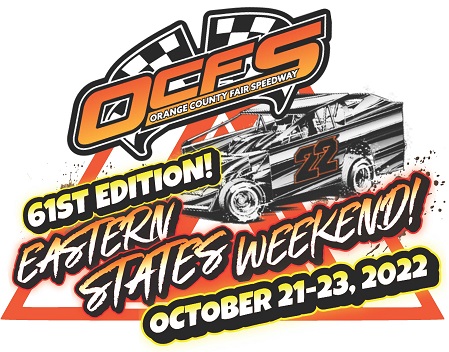 61st Annual Eastern States Weekend 2022 |
October 21 - 23, 2022
The tradition continues. Orange County Fair Speedway is happy to announce the 61st running of the Eastern States 200 on October 20-23. The ES 200 is the oldest Modified Stock Car race in the USA! The action will include the Big Block Modifieds, Small Block Modifieds, Crate Sportsman, Street Stock and Pro Stock divisions.
2022 EASTERN STATE WEEKEND SCHEDULE OF EVENTS
THURSDAY - OCT. 20
12-8 PM - Campers allowed into Fairgrounds, Gate 9.
1 PM - Pit Gate pens for Big Blocks. No 358's or Sportsman.
2PM - 7PM - Race Car Inspection on Pit Road Available
FRIDAY - OCT. 21
Pit Gates - 8:00AM | Drive-In Gate - 8:00PM | Grandstand Gate - 10:00AM
8:00 AM Pit Gate Opens. Big Blocks & STSS Race Cars only
8:00 AM Drive-in Gate Opens
8:30 Race Car Inspections
10:00 Grandstands Gates Open

10:00 Modified Time Trial Draw Begins
12:00 Drivers Meeting
12:45 Modified Stage to Pit Road
1:00 PM Modified Hot Laps
Street Stock Hot Laps
Modified Time Trials Top 6 Lock In
Modified Heats (6 More Lock In)
Street Stock Heats
Modified Race for the Pole - 12 Laps

4:00 BREAK
4:30 STSS Load In
STSS Hot Laps
7:00 PM Opening Ceremonies
STSS Qualifying Heats
STSS Last Chance Qualifier
Eastern States Race for the Champiions 20 Laps
ROC Victory Lane
Northeast Auto Parts Group Street Stock ESW 20 Lap Championship
Street Stock Victory Lane
STSS Feature Event 50 Laps
STSS Victory Lane Trackside
ALL RACE TEAMS MUST LEAVE THE PITS
SATURDAY - OCT. 22
Pit Gates - 8:00AM | Drive-In Gate - 9:00PM | Grandstand Gate - 10:00AM
8:00 AM Pit Gate Opens 358 & Sportsman
8:30 Race Car Inspection on Pit Road
9:00 AM Drive In Gates Open
10:00 AM Grandstands Gate Opens
10:00 AM 358 Modified & Sportsman Time Trial Draw Begins
12:00 PM Drivers Meeting
Sportsman Stage to Pit Road
Sportsman Hot Laps (3 Groups)
Sportsman Group Time Trials
358's Hot Laps
358's Time trials
Sportsman Heats
358 Heats
Sportsman Last Chance Qualifiers
358 Last Chance Qualifiers
Opening Ceremonies / National Anthem
Sportsman Eastern States 50 Lap Championship
Sportsman Victory Lane Trackside
358 Drivers Intro
358 Eastern States 100 Lap Championship
Eastern States 100 Victory Lane
Bonfire Behind 31st Lap
ALL RACE TEAMS MUST LEAVE THE PITS
NEW YEAR'S EVE PARTY @ 31ST LAP
SUNDAY - OCT. 23
Pit Gates - 8:00AM | Drive-In Gate - 9:00PM | Grandstand Gate - 10:00AM
8:00 AM Pit Gate Opens Modifieds & Pro Stocks
8:30 AM Race Car Inspection on Pit Road
9:00 AM Qualified Modifieds Move To Front Row
9:00 AM Drive-in Gates Open
10:00 AM Grandstands Gates Open
11:30 Autograph Session, Qualified Drivers Front of Grandstands
12:45 Mandatory Modified Drivers Meeting at Pit Stewards Stand
12:55 Mandatory Pro Stock Drivers Meeting
1:00 Modified Hot Laps NON Qualified Cars
Pro stock Timed Hot Laps (Groups)
Modified Hot Laps for Qualified Cars
Pro stock heats
Modified Last Chance Qualifier 15 Laps
Opening Ceremonies
Pro Stock Feature - 25 Laps
Pro Stock Victory Lane Trackside
Pre Race Line up Photo Opt
Driver Introductions
61st Annual Eastern States 200
Victory Lane Top 3